Argyle socks are fun and easy!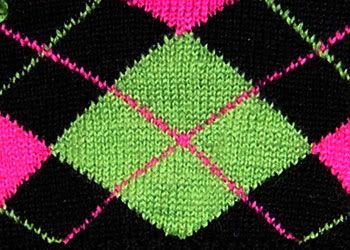 No, I'm not being sarcastic. The argyle chart is so common-sense that I memorized it in about 2 seconds. Watching the colours change is completely mesmerizing, and it seems to be growing so quickly! I find it actually easier than fair isle, because I don't have to worry about making the floats too tight. I'm using simple hanging lengths of yarn instead of bobbins, and I'm having no tangling problems - I just run my hand along the full length of each strand of yarn as I pick it up to keep them nicely separated. Joining new lengths isn't even irritating me! I'm in sock bliss! Everybody, rush out and get some sock yarn in some crazy colours, pick your favourite sock pattern, and make yourself a chart!
The sock is so beautiful that sometimes I have to put it down, look at it, and sigh a little. I think once it's blocked it will be absolutely gorgeous.
I must admit that I'm not too excited about weaving in all these ends, though...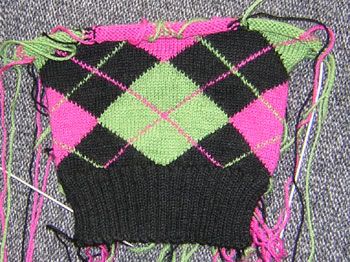 The only thing I don't like is that the diamonds are a little squashed. Next time I'd make the chart diamonds a little thinner so they turn out at 45-degree angles once they're knitted.
|