Fingerless Mitts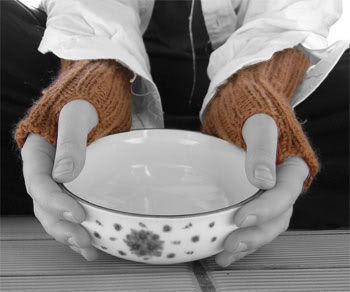 "Please, Sir, I want some more!"
As I mentioned earlier, my workplace is, for the most part, unheated. Granted, winters in
Changwon
are warmer than those in Halifax, but it's cold enough to be uncomfortable. I knit these fingerless mitts (pattern courtesy of
Knitty
) in some DK-weight superwash on two circulars. I tested them at work yesterday, and while I occasionally experienced (simultaneously) sweaty palms and cold fingers, I was noticeably warmer than I had been on Monday.
If I made them again, I'd increase to create a thumb gusset - these are knit straight from top to bottom, meant to stretch over the hand. This results in the ribbing being twisted instead of hanging straight, and the pulling at the top results in a less-than-perfect fit. I probably will make another pair in another colour, maybe in sock yarn to fit under closer-fitting shirts.
Thanks to those who posted in the comments, it's good to be back! Re: my sudden arrival in South Korea, I'd been vaguely planning to go since around last Christmas, and began making plans this summer. I was no longer certain of my next steps after university, and I'd never been overseas, so I thought a year or so of teaching English in Korea would be a great way to spend the time while I thought about things. The whole process got rolling more quickly than expected, and I ended up leaving about a month earlier than planned. To find out more and see some photos, check out
my travel blog
.
P.S. I found some aran-weight yarn which I think will do nicely for the Rogue cardigan. Details to come.
|