The Holy Grail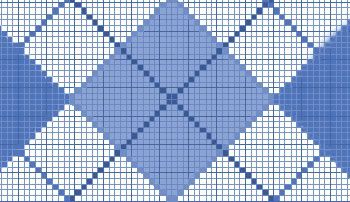 For as long as I have been knitting, I have considered Argyle Socks the holy grail. The epitome of the perfect (and the perfectly difficult) knitted garment. Now I know there are those of you out there who will tell me that knitting a lace shawl, or a complicated Norwegian sweater, or a Suss Cousins design without completely re-writing the pattern for clarity and accuracy, would be a far more difficult accomplishment. And you may be right. But nothing, in my never very humble opinion, screams "knitting" like an argyle sock, and nothing so classical is quite so cool. For good or bad, Argyle socks are my own personal knitting Everest. When I have knit the argyles, I will have Made It as a knitter.
Yesterday, as I was frogging a glove I really didn't like, I realized that very thin yarn, working in the round, and even using multiple colours of yarn are project characteristics to which I have become accustomed. I can't say that I've knit anything bigger than a coaster in intarsia, nor can I say I don't blanch slightly at the thought of eight or nine different lengths of working yarn all dangling from one sock, but I realized I'm ready to make a stab at it.
Thus, I began.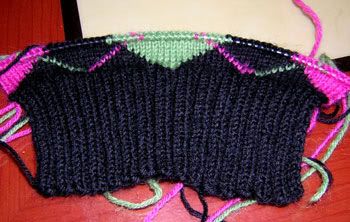 Yes, the socks will be black with hot pink and shocking green diamonds: that's what I have on hand, and my LYK* doesn't carry anything in a suitable gauge. The pattern is a vintage one of indeterminate age I picked up somewhere in my travels, headlined "Argyles: the sock Mrs. America likes to make, the sock Mr. America likes to wear." That, I can only hope, makes me the Miss America of Argyle socks.
Alas, the rather unfortunate photo above is all that remains of my first attempt. Gauge, that "cruel mistress,"** forsook me (I blame measuring tiny black stitches in a dim room at night - and wishful thinking) and the too-small sock had to be frogged. Now that I'm actually
knitting argyle socks
, however, I have realized my full knitting genius potential and thus re-created the chart at a more suitable number of stitches.
Obvious Argyle Sock Lesson #1
is that the pattern is entirely geometric, symmetrical, mathematical, whatever you want to call it - and thus, easily manipulated to any size of diamond whatsoever.
I was tempted to pretend the first (failed attempt didn't happen), but decided against maintaining a dignified Argyley hauteur in favour of showing you, dear reader, that even a bonehead like me can knit the Holy Grail of knitwear. A seemingly excellent Argyle tutorial can be found
here
. I won't be reading it - it looks quite long, and I want to figure this out on my own (did I mention I'm a bonehead?), but it's definitely worth adding to your bookmarks.
*Local Yarn Kiosk
**I am quoting Claudia of Same's
Knitting and Spinning Blog
|