The return of the prodigal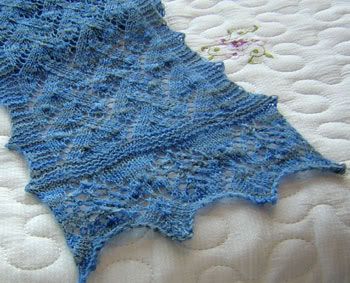 Apologies to all for my abrupt disappearance from the blogging world. My only excuse is that I moved to South Korea rather suddenly. My Hotmail email address expired, so if you sent me an email, I unfortunately did not receive it. I have accordingly switched to
Gmail
.
I knew it was time to make a comeback when I bought bamboo circulars for the equivalent of 50 cents each and realized I didn't have anyone with whom to share this marvelous find. Well, not anyone who
cared
about knitting needle retail prices. Therefore, I say unto you: come to Korea, where the streets are paved with bamboo knitting needles.
Don't come to Korea if you want to knit with Aran-weight wool.
My place of work is for the most part unheated in winter. I left my big wooly sweaters at home (it's hard to pack everything you need for at least a year into two bags, isn't it?). 90% of the clothes in Korea are too small for my Scottish-Estonian frame. Conclusion? Start knitting! I deemed it the perfect time to knit
Rogue
(cardigan version). Because I dislike hype, knitalongs, and jump-on-the-bandwagon-ness of any kind, I feel compelled to point out that I have been wanting to knit this sweater since it was still named Brigand. If you now feel compelled to conclude that I am a petty snob, that's okay too!
Unfortunately, my local yarn store, or perhaps I should really say local yarn
kiosk
, doesn't seem to carry anything between DK and Chunky weight yarn (then again, with the language barrier I could be wrong). For the most part, the only yarn shops appear to be tiny booths inside larger buildings. I have not yet come across anything I would describe as a "yarn store", nor am I likely to, except by accident (language barrier yet again). I do know of
one in Seoul that actually stocks Rowan
, but as I'm 5 hours away I haven't yet made the trip.
Shopping for yarn online is fun until I calculate shipping costs to Korea. Feel free to leave your suggestions for large, warm, DK-weight sweater patterns in the comments!
The above photo represents my first Korean FO, a scarf version of "Madli's Shawl" from IK Summer 2004, which I started before I left Canada. A close-up of the main lace pattern (complete with Estonian "nupps") is below. Like the Yarn Harlot, I adore Nancy Bush.
If you're interested in learning about expat life in South Korea, visit my travel blog
"I Shall Make That Trip"
.
|