La la la, I love my Fair Isle...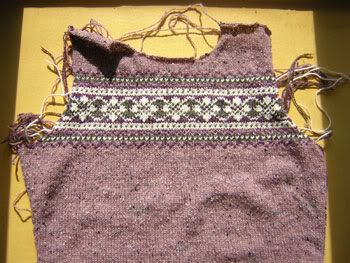 However, I must say that knitting fair isle flat is POINTLESS and STUPID! I usually have nothing against purling, but you can't see the pretty patterns when you're working on the wrong side of the design, and (the clincher) you end up with soooo many yarn ends to weave in afterwards.
I suppose I could have modified the pattern to knit it in the round, but I've never done that with set-in sleeves before, and besides I think that for this, a relatively fitted sweater, seams are necessary.
At any rate, I love the colours and I love, love, love
Felted Tweed
. It's 50% merino, 25% alpaca, and 25% viscose (which is a fancy name for rayon). I am a sucker for tweed, and I love the softness and the colours.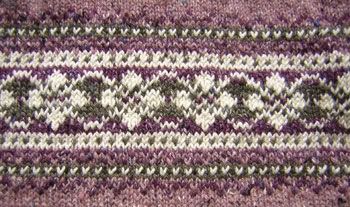 The off-white colour you see in the pictures is actually a substitute: the pattern called for a light blue, which I think would look strange and bad.
I have finished the front and the back. I got to the cap of the left sleeve and realized I'd forgotten to adjust for the difference in row gauge between myself and Ms. Hargreaves, and was forced to rip out.
***
I didn't see any interesting knitting-related stuff in China, but as I returned via Seoul I of course paid a visit to
MyKnit Studio
and picked up the yarn for my next project: seven balls of
Yorkshire Aran Tweed
to knit "Demi" from Rowan's
Vintage Style
: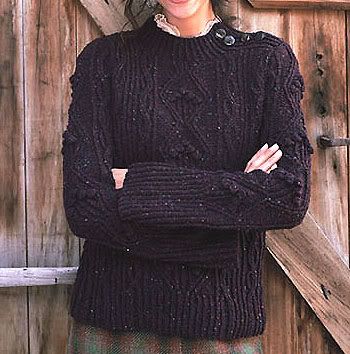 Though the photography makes it look like a deep purple, the sample was actually knitted in black, and really wouldn't show up in most lights. My first choice (brownish-green) was not in stock, nor was my second (eggplant-purple) so I chose a shade called "tusk", a dirty bone colour which I think will make the design slightly more traditional but no less nautical.
I've realized I don't really like names for sweaters... I tend to refer to the project I'm working on as "the pink sweater" or "the fair isle sweater" or "the felted tweed sweater", though I do use pattern names on the blog for others' reference. I think I will refer to the new sweater as "my sailor sweater."
Oh - and I actually got the exact stitch and row gauge. This never happens.
In the suggested 5mm needles. This
never
happens.
Yes, I swatched for the sailor sweater after ripping out the fair isle sweater's sleeve. And there's absolutely nothing wrong with that!
|