Make a pot of coffee and settle down for the morning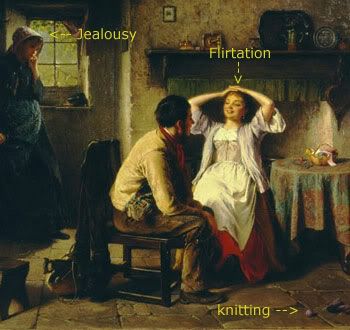 If you're anything like me, you go on bouts of knitting web-surfing. You check out the newest catalogs, or if there aren't any new ones you haven't yet seen, you search for obscure knitting studios that might have 'new-to-you' patterns. You window shop at online knitting stores (in my case, the prohibitive shipping costs to South Korea are what prevent me from adding items to my shopping cart, but I'm sure you have your own reasons). You look for new blogs with interesting prose, interesting projects, or interesting pictures (you come across the triple-threat blogs that contain all three but rarely). You skim all the postings on Knitter's Review. You download free patterns you'll probably never knit, 'just in case.' And, more often than not, you're convinced that you've seen it all. That you've spent so much time reading knitting web sites, that there's nothing more to read. Jaded, you turn off the computer and go back to that stalled project. When it stalls again, you'll go back to the PC to find that, happily, there are new sites! New catalogs! New postings! And even old sites you hadn't found.
If you're anything like me, you'll spend an enjoyable morning perusing the
Victoria and Albert Museum's online knitting exhibit
(link courtesy of
Claudia Knits
). They've got items from the collections, an explanation of regional knitting in the British Isles, really really egotistic interviews with British knitting designers, a free surrealist pattern, free 1940s patterns, and a free Rowan pattern (
"Liberty"
from "Classic Cafe"). I hope, however, that
un
like me, you won't be ripping back row upon row of knitted lace mohair while you read it!
|