Le Rowan nouveau est arrivé!
There's nothing like a slew of new knitting magazines to bring you out of the midwinter blahs. Colourway is, as usual, offering the first glimpse of Rowan and Jaeger's new offerings, with the addition of a new brand called "RYC".

I'm not particularly excited about Rowan 37 - but the summer issues usually leave me pretty cold (except for Rowan 31 - that was a great issue). There's a lot of back-to-the-80s stuff that I don't think anyone who lived through the 80s would particularly want to revisit, and I don't like a couple of the new yarns (cotton tape, linen print...).

First, the bad: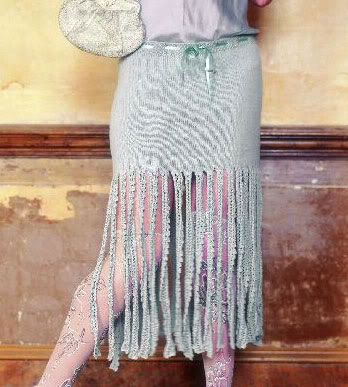 I think this skirt belongs in
R2
(and I think
R2
belongs wedged under the short table leg in the basement).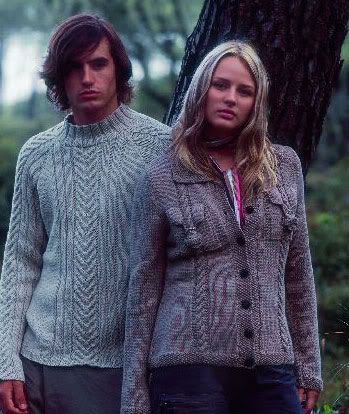 I christen this sweater "Boob pockets".
Now, the good: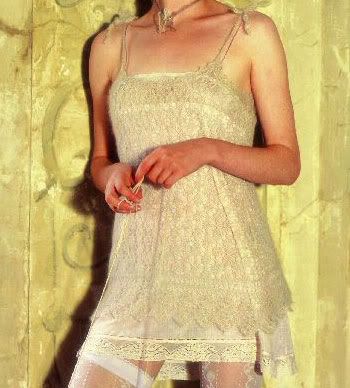 I think this is a beautiful, heirloom quality piece (also available in camisole length) and just the ticket for those interested in lace but oh-so-
un
-interested in shawls.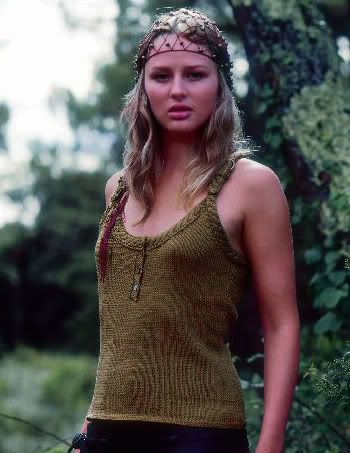 For the most part, I stay away from knitted tanks (off the rack as well as off the needles)... tanks are generally supposed to be sexy and fitted (or tight). Plus they're for warm weather. So wool tanks, chunky tanks, tanks knit in yarns or at gauges as to allow nipples to show, and most other knitted tanks are really unflattering (too bad, because the thought of not having to knit sleeves is really attractive). This one, however, is different. It's a very casual, wear-with-jeans, I-bought-this-at-the-Salvation-Army sort of look, and I really like it. I wonder which yarn it's knitted in.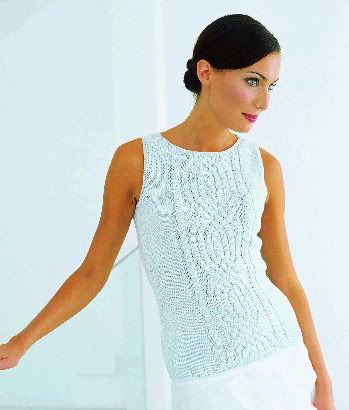 In related tank sightings, this from
Jaeger's
latest is also excellent. Classic, great lines, and you can wear it anywhere.
RYC
I'm not a big Martin Storey fan, but he's doing some interesting things in the
"Classic Cafe"
and
"Classic Garden"
books (though I'd like to say that "Classic Cafe" is a really, really stupid name).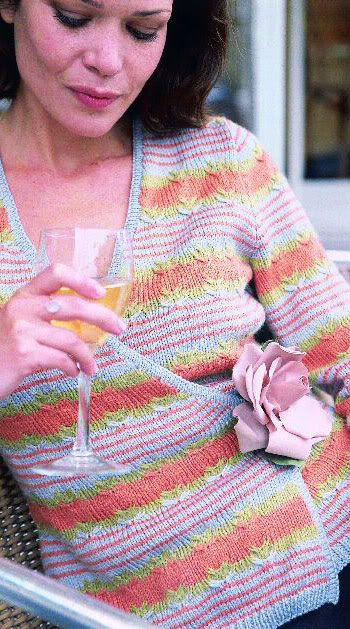 I don't really like the colour combination but I think he's mixed cables into a graduated-colour fair isle pattern in a really neat way.
The Home Front
I am knitting, although it was too frustrating to blog about it for a while. Expect exciting new photos on Thursday.
|